The Real Estate Goddess's Guide to




How to Build a Wholesaling Business



Online Course
For Stressed-Out Solopreneurs
Wholesaling real estate is a great job.
It pays well, it's exciting, there are new people to meet and problems to solve every day.
But like any job, it has some serious limitations:
You ALWAYS go to bed knowing that you've dropped some important balls that needed to be juggled to make that next deal.
You ALWAYS feel like there's something you should be working on to GROW your business, but day after day, you can't get to it, because the aforementioned day-to-day balls have to be dealt with, first.
Your income is limited by the time and energy YOU have to work on finding deals, evaluating deals, making offers, selling deals, growing your buyer's list…
When you quit, or go on vacation, or pursue another strategy, or get distracted, the money quits, too.
Trust me when I say that 25 years in the wholesaling business, and another 15 coaching OTHERS in the strategy, have taught me a lot about what DOESN'T solve these problems (even though EVERYONE tries them):
Working harder won't fix it.
Better time management or more discipline won't fix it.
Finding a "better" or "easier" strategy won't fix it.
More technology won't fix it.
The Only Way to "Fix" It—
To Do More Deals,
Have More Time,
Be Less Stressed,
and GROW
Is to Stop Working a Wholesaling JOB
And Start a Wholesaling Business.
Boy, I wish someone had told me that in 1994, when I first learned about wholesaling.
Better yet, I wish someone had said, "Once you get pretty good at doing deals, you're going to want to start on a SECOND project, which is creating systems around what you do, and hiring other people to do some of them, so you can focus on the parts you like, and are good at, and on doing MORE deals…
…and also, here's exactly what you need to do that."
Yeah, I read all the books.
The E-Myth Revisted.
Traction.
Four Disciplines of Execution.
The Checklist Manifesto.
And dozens of others.
They were all inspiring, and instructive…
…But they all left me with a lot of questions about MY situation.
Questions like:
I know I need systems, but WHAT systems? And how do I write thorough systems when, in some ways, every deal is different? And how do I keep them up to date, when everything from the websites I use to the market changes all the time?
I know I need people to run them, but WHO? What are their job descriptions? Their roles? How do I find them? What do I pay them
I know I need "Key performance indicators", and a "scorecard", but WHICH ONES? And how do I keep track of them?
How am I going to manage these people, when I have zero management experience?
It Took Me DECADES to Figure This Out…
But It's Only Gonna Take YOU 7 Weeks.
Building a wholesaling business isn't rocket science—but it IS completely different than being a good wholesaler.
You can learn how to build a business, just like you learned how to find, and evaluate, and make offers on, and sell deals.
But you don't have to do it from scratch, like I did:
You just need to learn what to do, and how to do it.
And that's exactly what I'll teach you at my all-new 7 week, online course How to Build a Wholesale Business Class.
I'll Shortcut the Process of
Building a Wholesaling Business
So You Can Do it NOW,
Not Years from Now…
I'll share everything I've learned, including:
How to get crystal-clear on YOUR vision for the business, and why it's the first, most important step to hiring the RIGHT people, creating the RIGHT policies, setting the RIGHT goals, and pretty much everything else.
Which systems you need, and how to create them, with tons of examples from my own business.
Which numbers to track to make sure that your team is following your systems, and how to create a 'leading indicators' that your team is responsible for hitting each week, that practically guarantee success
What roles need to be filled in a wholesaling business, and what the job descriptions look like, and what to pay people in each role, and how to find those people.
How to 'afford' that next team member.
How to overcome problems you don't even know you're going to have yet, like inter-office communication issues, and inter-employee drama, and payroll withholding, and a zillion other things that you'll deal with as a business owner.
You're a new wholesaler who's just naturally business-minded, and it's confused you from day 1 why no one seems to talk about how to take the (no-brainer to YOU) steps of turning this obviously profitable business into a real business
You're an active wholesaler who's suffering from the completely-normal "I know I could make more money if I could just STOP HAVING TO DO EVERY STUPID LITTLE TASK MYSELF" syndrome
You've already taken some steps in creating a business—you have a VA, you've implemented some time-saving technologies, you're careful to focus on the 20% of tasks that result in 80% of the profit—but you want to do even more deals in even less time
You already have a wholesaling business, and you know that ONE new idea will more than pay for the time and money you'll invest in this information.
Speaking of Time and Money,
Here's Your Investment--
And Your Guarantee.
If you're considering this class, I'm betting that you already understand that TIME is a more precious resource than MONEY. You can always make more money. Time, not so much. So we'll start with your time commitment.
How to Build a Wholesaling Business is a 7-week online class.
The classes are online and on- demand to best fit your schedule.
You'll also have 3 preparatory assignments to complete and turn in before the class starts, that help you analyze where you are right now, what you most need to accomplish first, and which help ME understand where to focus our class time. These assignments should take 1-2 hours each for you to complete.
Yes, all the classes are recorded, and you'll have permanent access to them online—so no, it doesn't matter if you have to miss a week.
Yes, there will be written materials—transcripts, systems, job descriptions, non-compete agreements, everything you need—as well.
Yes, there will be ample opportunity for questions and answers.
The money is minor: it's just $1,597 to learn everything you need to know to give yourself MORE money—and more time.
And in fact, there are significant—like REALLY significant—discounts for my previous students. If you've attended wholesale school, or have my wholesaling home study course, send us an email sara@therealestategoddess.com, and we'll let you know what your special price is.
And if you're a current Inner Circle or Express Success member, you get 10% off even the coupon code price when you check out.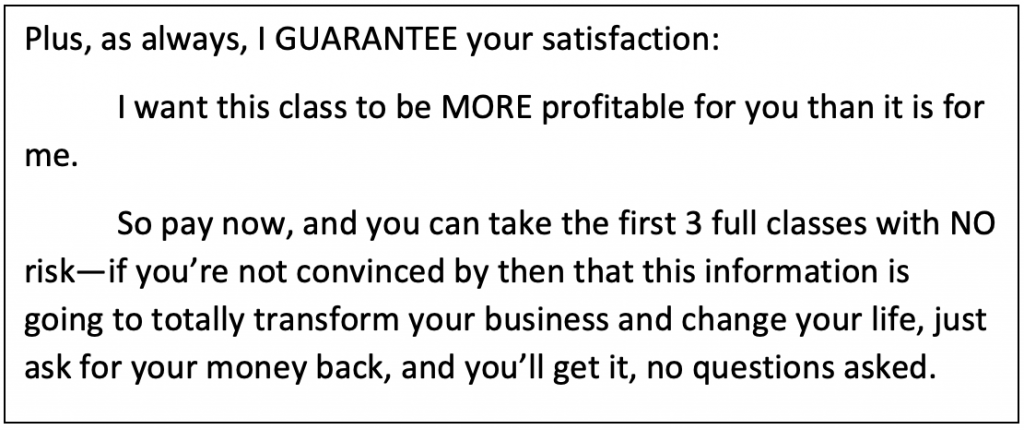 Let me help you be less stressed.
Let me help you cut years of your "business building" learning curve.
Let me help you avoid mistakes and missteps that most business-builders make.
Let me help you make more money.
Register for the How to Build a Wholesaling Business class now, and change your life forever.
Yours;
Vena