Try Inner Circle for $1 to start
Get the real estate education you need for $1
The Missing Link in Your Real Estate Success Chain - Email coaching and continuing education at an incredibly affordable price, with no long-term commitment!
---
The Real Estate Goddess's Guide to The Fundamentals of Real Estate
This course gives a basic overview to investing in real estate. This includes a discussion of area types, exit strategies, and beginning with the end in mind. The course also goes into many strategies to find great deals as well as evaluation of value and doing the deal itself. The course ends with an overview of creative buying strategies.
---
The Real Estate Goddess's Guide to Transactioneering
The Transactioneering Mastery program is unique in that it focuses on understand and implementing part of the process of making a deal, and it shows you how to think about that part of the process.
The purpose of the program is to get to a solution that is beneficial, workable, and explicable to a civilian seller. It's to find a deal that works for YOU AND THE SELLER.
---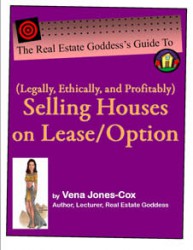 The Real Estate Goddess's Guide to (Legally, Ethically, and Profitably) Selling Houses on Lease/Option
More profitable than selling outright
Less hassle than renting
Able to turn your single family homes into more profit…It's a strategy! It's a miracle! It's a lease/option!
---
The Real Estate Goddess's Guide to Wholesaling Real Estate & The Real Estate Goddess's Guide to Building a Wholesaling Business
---