Kathy Kennebrook® The Marketing Magic Lady
"The Marketing Magic System"


"Let Me Show You How I Made Seven Figures In Twelve Short Months Using My Unique Direct Mail Strategies To Locate More Highly Motivated Sellers and Completely Automate My Business"
"And How You Can Do The Same In Your Pajamas Without Licking A Single Stamp!"
Contains 12 Direct Mail Campaigns including:
· Out of State Owners
· Pre-foreclosures
· Military Transfers
· Vacant Houses
· Quit Claim Deeds
· Finding Your Dream Home
· Multi-family Owners
· Attorney Letter
· Zip Code Mailer
· Getting the Deed letter
· Expired Listings
· Free & Clear Property Owners
· FSBO
· Inherited
· …and more!
PLUS, 24 additional marketing techniques and samples of all of them, including the Calling on Ads campaign and the Tenant Referral System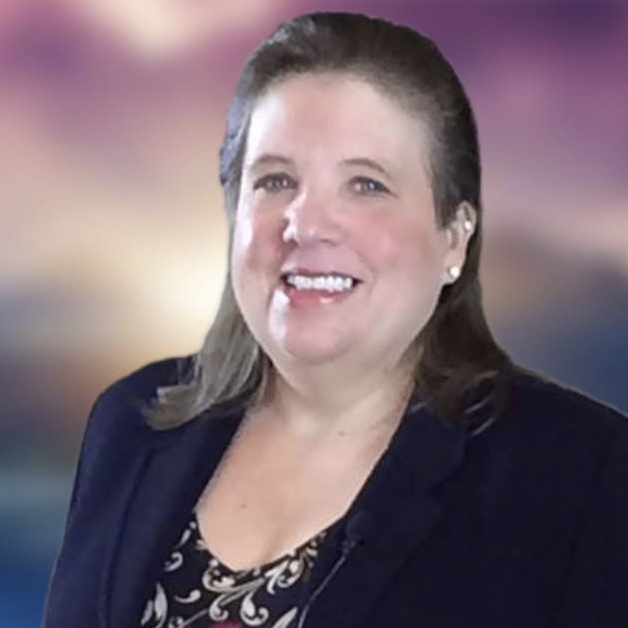 The course also includes an 8 CD audio set, plus a forms CD with all the letters already done for you. This complete system also includes resources for all your mailing lists plus companies to do all the mailings for you.
Marketing Magic Seller Conversations– includes transcribed manual plus audio CD of conversations with sellers both motivated and non-motivated for each direct mail campaign so you can learn to pre-screen sellers quickly or train someone to do it for you
$8,300 Bonuses for the FIRST 7 BUYERS ONLY:

Bonus 6 Audio CD set..………………….695.00 Value

Your Own 24 Hr. Recorded Message..………………….149.00 Value

Kathy Kennebrook's Personal Marketing Resource Kit: provides you with discounted pricing on all the resources you need for your Real Estate Investing Business..………………….497.00 Value

12 Month Consulting Certificate-Get one on one help directly from Kathy on your marketing..………………….4,500.00 Value

Exit Strategies for the Real Estate Investor CD set-Kathy provides you will all the information you need on the exit strategies that work in today's market..………………….299.00 Value

Consultation With Kathy's Personal CPA & Financial Planner Personal and Business Taxation and Financial Planning Specialist..………………….250.00 Value

Guerilla Tactics to Boost Your Credit Score..………………….149.00 Value

Pre-Qualifying Your Dream Team Realtor..………………….199.00 Value

Live Auction Boot Camp 4 DVD set-Learn the good the bad and the ugly so you don't make the same mistakes, how to run a successful Round Robin Auction, Secrets from an Auctioneer who has done over 5,000 auctions, live Panel Discussions and much more..………………….1,497.00 Value

Tenant Referral Program..………………….99.00 Value

An Unprecedented offer of over $8,300.00 in Discounts and Bonuses Absolutely FREE for the First 7 people who are willing to take action now and propel their business to another level!!
**CDs on thumb drive available on request

Rebate Certificate

When you do a deal within the next 12 Months using one of Kathy Kennebrook's 12 direct mail campaigns and you send your testimonial letter, proof you did the deal and a copy of your profit check totaling $15,000 or more, she will refund the entire purchase amount and you keep the system and all of the bonuses.

We are also offering a 30-Day Free Look Enrollment Plan. If Kathy's system isn't everything she said it was you have 30 days to get it back to us for a full refund less credit card fees.
Find Highly Motivated Sellers of Vacant Land and Buy Land Deals For Pennies on The Dollar especially in our current market!!!!
Then Sell or Lease them For BIG Dollars!!!!
It's absolutely true. I usually start my day talking to sellers, reviewing responses to my mailings, making offers and buying a piece of land before I ever get through my first glass of iced tea in the morning, (I'm allergic to coffee). I also spend time reviewing the tax deed sales in the areas I like to buy land in.

Ordinary people are making thousands of dollars using this unique system in virtually every city and every state, everyday. And you can too! Here is some of the neat stuff you'll learn using my system: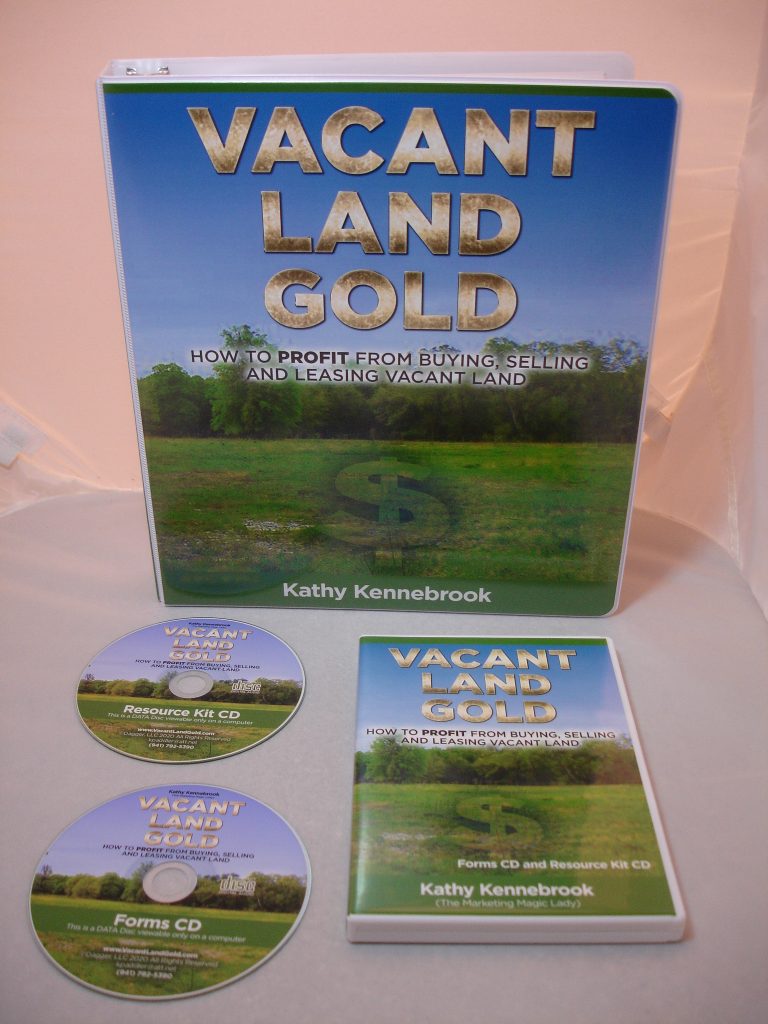 You'll learn how to locate more deals in just a couple of weeks than you will be able to process in a year.

How to find the owners of vacant land even when they don't want to be found.

Have an endless stream of motivated sellers practically begging you to take their vacant land off their hands.
How to use a response mechanism within the body of the letter so your deals are prescreened for you when you receive the responses from the sellers.
Learn 10 Ways to sell vacant land quickly
24 Techniques to lease vacant land for long term profits

How to Increase the Value of a Piece of Vacant Land and Make More Profits

I will also share with you my personal experiences with Tax Lien Investing and Tax Deed Sales

Learn The Importance of Due Diligence when buying vacant land.

Why YOU don't have to work hard to make this system a success. And how getting someone else to do all the work for you will let you create more deals more quickly!!

Learn How To Automate The Follow-Up Process, The Deal-Making Process And Make Money Without Ever Leaving Your Desk.

How to find and make incredible deals with out of state owners of vacant land in your city or county.

How to carve a niche market for yourself, finding the most highly-motivated sellers that none of your competition know anything about.

How to start from scratch and complete your first deal within 45 days.
 These techniques are designed to identify and address a unique and virtually untapped marketplace of motivated sellers and show you how to approach these sellers in a way that will make them contact you first giving you all the information you need to create the deal.
"Wow! What a marketing product this package is. Not only did I close on a deal within a month of purchasing your system, my mailbox is full of responses. I am on my way! This is all from using your marketing techniques to find vacant land.. Angela D, Tampa, Florida
Stop Searching For Vacant Land The Hard Way!!
Implement this dummy proof, affordable and effective marketing system that will have motivated, qualified sellers of vacant land contacting YOU!

Position yourself out in front. Enjoy having the competitive edge with sellers who not only haven't heard from your competition, they don't even know they exist.
Turn small marketing dollars into BIG profits with MINIMAL effort and HUGE results.
I've included the letters, the contracts, disclosure forms, and evaluation sheets for you on CD along with resources to find the lists you need and companies to do all the work for you. This makes it easy for you to reproduce and use the letters over and over again.
The direct mail campaign is covered in complete detail within its own section in your systems manual, so you do not have to hunt all over the manual for the specific directions you need.
"I implemented Kathy's System and within 30 days I purchased my first piece of vacant land. The directions are easy to follow, all the resources are provided and the seller gave me the information I needed just like Kathy said…thank so much Kathy for adding dollars to my bottom line!"
I am also going to cover how to locate these pieces of vacant land. Since many of these pieces of land are completely vacant, they do not have physical addresses so you need to learn how to locate them.
I am going to show you how to take a piece of vacant land that has a home or building that needs to be demolished and get it done at no cost to you….yup you read that right!!!
I've also included within this system lots of great ways for you to easily find the lists you'll need to locate these very motivated sellers. This is just another great way to automate the system.
Take some time NOW to get your Marketing in place to acquire these amazing and profitable deals!!
Vacant Land Gold How To Make Big Profits Buying Selling and Leasing Vacant Land
The System includes the Manual and Two CDs- Your Forms CD with all the letters, evaluations sheets, and contracts and Your Marketing Resource Kit CD.
And … to insure that you succeed in using my system, you will have ME,  for One Full Year after you receive my system via email to answer any question about Marketing to find these very motivated sellers!
This is a $4,500 value all by itself!! But only if you are able to make a decision quickly.
AND……I am going to include a couple of other special bonuses for you with this Special Offer!!!
• First a discount of $500.00 off the system price of $1,497.00 making it only $997.00.
A FREE 30 minute Consultation with my Personal CPA, he is a long time real estate investor and CPA and Financial Planner……$250.00 Value
AND a copy of my Book Your Personal Path to Prosperity on CD ABSOLUTELY Free!!
So Invest In Vacant Land Gold TODAY While we still have just 5 sets available at this amazing price! Use coupon code Gold when you check out to get your very special discount while it lasts!